TradingLive Trading Influencers Awards Ceremony 2023 Concluded Successfully in Malaysia。As a part of our Influencers Awards we rate the Best Crypto Trader and Leading Trader.
There are many forex Lecturers one can find online, but only a few of them have rock solid results and proven track record when it comes to truly teaching people how to trade profitably on currency markets.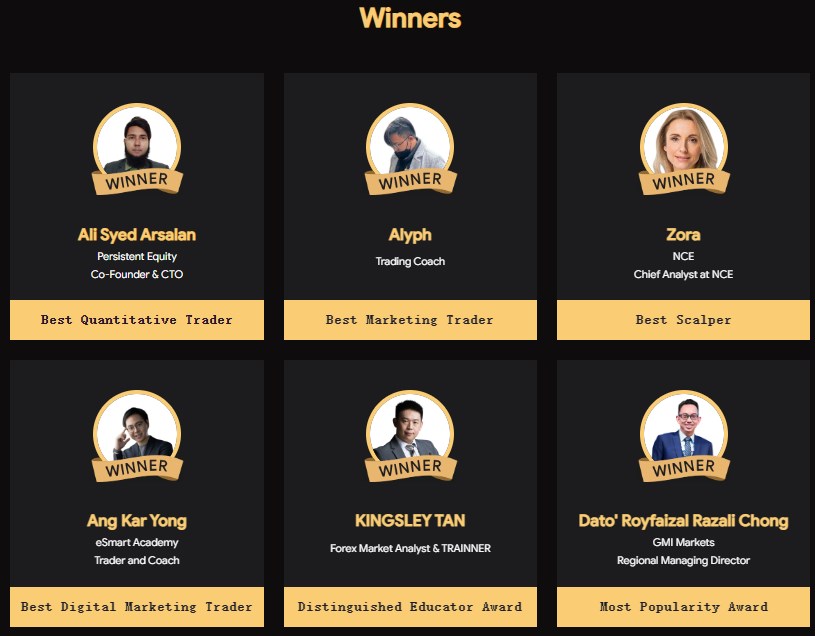 Table of Contents
10 Best Forex traders and Educators:
Best Quantitative Trader
Distinguished Educator Award
Best Forex Strategies Analyst
Most Credible Trader
Best Swing Trader
Top New Trader
Best Forex Trader
Best Day Trader
Best Position Trader
Best Crypto Trader
#1 – Best Quantitative Trader
Ali Syed Arsalan
Ali is a seasoned forex trader with a remarkable track record of consistent returns and low draw-down. Having started trading in 2007, Ali has honed his skills over the years to become one of the most successful forex traders. With a verified track record of over 5 years, he has consistently achieved an impressive average monthly return of 3%+. Also, Ali's trading strategy has proven to be effective in minimizing risk, with a max drawdown peak to valley of only 15%. His success is a testament to his unmatched trading skills and expertise in the forex market.
Furthermore, Ali has also demonstrated his entrepreneurial skills by co-founding Persistent Equity, a successful investment management firm specializing in quantitative trading, where he currently serves as the CTO.
#2 – Distinguished Educator Award
KINGSLEY TAN
I gained 14 years of experience in forex trading. I'm an author of the book, Currency Times. I'm also a financial forex analyst and trading trainer. And I have trained more than 2,000 people over the past years.
#3 – Best Forex Strategies Analyst
Farzad Vajihi
Experienced and self-motivated International Trader with over ten years of experience in financial markets and founder of 17 companies including Aron Groups Broker (The fastest growing broker in MENA).
Dr. Vajihi is a self-made millionaire whom dedicate his free time to provide high quality fundamental and technical market analysis on social media to the public with no costs.
His goal is to improve global image of forex industry and increase profitability of traders by providing transparent institutional level signals and analysis on daily basis.
#4 – Most Credible Trader
YC Chin
YC is the founder and chief training instructor of Share World Consulting. He has an extensive background in financial management. He passed the CFA Level 1 Test, ICAEW Professional Level Test, CFP Test and various tests from the Securities Commission of Malaysia. He is also a guest lecturer at various universities, financial institutions, investment banks and exchanges.
#5 – Best Swing Trader
Richard Nasr
Richard Nasr, also known as theSignalyst, is a full-time trader since 2012 and have coached 550+ traders worldwide.
He is a TOP author on TradingView platform with over 50k followers, Kucoin's Technical Analyst and have won the TradingNut competition.
#6 – Top New Trader
PanSimon
the Co-founder of MyFXtool, a post-95 generation trader, Runner-up at the Heavy Class, ImTrader Trading Competition, the vice president of the Association of Guangzhou Traders, the special guest of "Trader's Talk", and a contributor to "Huihun Weekly", "I am a Trader" and "Program Automated Trading". With 12 years of experience, I have participated in multiple trading competitions when I was in high school, and am now specialized in forex trading, and commodity analysis. Currently I'm dedicated to growing the business of MyFXtool, which has developed the world's first API copy trading system based on MT4 EA operation, and MT4 super trading assistant tool.
#7 – Best Forex Trader
Faiz Ismail
Have won award Market Analyst Expert/Best Trading Advisor 2022/100 Most Influential Young/Entrepreneurs 2021.Don't Miss Out What You Need To Know To Generate 10x Income On Digital Transactions.
#8 – Best Day Trader
Ducth Sedthaphol janjaem
I like advantageous investment. The advantage comes from the fact that we seek investment opportunities. Open your mind to know the news. Use knowledge to reduce risks and don't stick to one things too much.
#9 – Best Position Trader
Sean Izzan
Provide sharp daily execution via technical analysis. Encourage and advice retail traders with proper money management and the beauty of compounding.
#10 – Best Crypto Trader
Jessica Sin
Jessica has a professional background in analyzing equities, and has been sharing content on trading cryptocurrencies as well as investing in US stocks on social media platforms such as Youtube and Tiktok. Her focus is mainly on swing trading cryptocurrencies, while paying attention to macroeconomic trends as well.
ABOUT US
TradingLive is a live streaming platform specialized for traders and investors around the world, with the website and mobile App available in English, Chinese, Vietnamese, Thai, and Arabic versions. Our lecturers cover a wide range of markets, including forex, stock, crypto and more. We are dedicated to building a financial community where top traders and investors around the world come together to create and share, to learn and earn.
Website: www.trading.live