Although the incorporation of regulatory authorities has reduced the overall percentage of forex scams, fake brokers keep appearing in the market to trap clients with little or no knowledge about the currency market. This piece drives your attention to scam broker 247TradesFX.
247TradesFX – Overview
247TradesFX (https://www.247tradesfx.com/) is a forex broker providing online trading services across various financial markets, including forex, indices, energies, metals, and cryptocurrencies. Based in the United States, the company claims to have served the forex industry for almost a decade. The broker facilitates clients with a standard account in addition to the industry's most renowned trading platform – MetaTrader5 (MT5). With an initial investment of $5000, clients can also opt into managed account services offered by the broker. Clients can deposit funds to their accounts using cryptocurrencies only. The company neither has a customized trading app nor provides educational resources. Live chat support is also not available. Clients may contact the company via telephone or email to escalate their queries and concerns.
Is 247TradesFX Regulated?
No! 247TradesFX is not regulated anywhere in the world. Although the company claims to hold registration with the United Financial Services Authority (UFSA), no such regulatory authority exists in the country.
Please note that any broker operating within the US must seek permission from the National Futures Association (NFA) or Commodity Futures Trading Commission (CFTC) to continue its business activities in the country. While looking through the National Futures Association (NFA) of the United States, we could not locate this broker. This indicates that the NFA has not permitted the company to offer financial services in the USA.
The broker also claims to be regulated by :
1) United Kingdom Financial Conduct Authority (FCA);
2) France Autorité des Marchés Financiers (AMF);
3) Germany Federal Financial Supervisory Authority (BaFin);
4) Italy Commissione Nazionale per le Società e la Borsa (CONSOB);
5) Spain Comisión Nacional del Mercado de Valores (CNMV).
6) Finanstilsynet, Denmark
However, upon searching, it is confirmed that the broker is not regulated by any of these regulators. All in all, the broker lies on its regulatory status.
Has 247TradesFX Ever Been Black Listed?
Yes, 247TradesFX has been blacklisted by the UK's Financial Conduct Authority (FCA). According to the regulator, the firm is found guilty of providing unauthorized trading services to the residents of the United Kingdom. The regulator warns investors to stay away from it as funds with this broker are likely unrecoverable.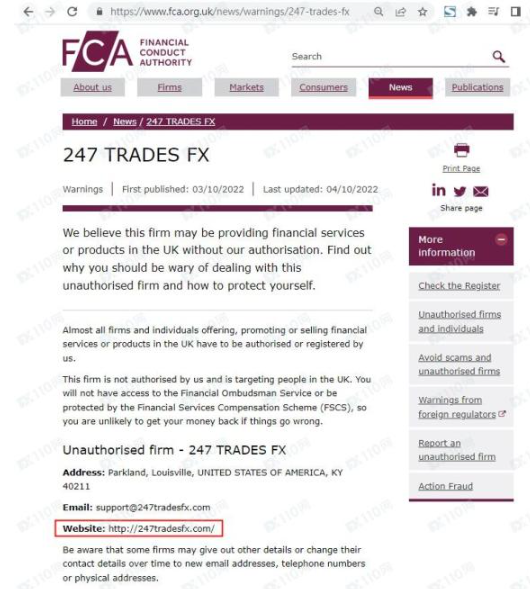 What Makes 247TradesFX A Scam Broker?
First, 247TradesFX claimed to hold regulations from an authority that even doesn't exist. Maybe the broker is also lying about its physical existence in the United States.
Second, the broker claims to have been existing for 9 years. However, according to several online resources, the broker's domain age is just a few months old.
Third, the company accepts only crypto deposits, yet another big flag on its legitimacy. Just think, why would a legit broker restrict clients to crypto deposits when there are multiple payment options around? t is very possible that the broker wants to conceal its identity and leave no record for authorities to follow up if reported.
Moreover, the company claims to pay special attention to ensuring the safety of clients' financial and confidential data. However, it fails to incorporate essential security certificates like SSL to second its claim.
Bottom Line:
247TradesFX is a confirmed scam broker; we do not recommend signing up with it. The broker is neither regulated nor registered anywhere and has no protective measures to be considered for investment purposes. Even the website domain isn't encrypted for secure communication. Remember, if you lose funds to the broker, you won't be able to recover them ever.