This is a scam. Only this firm ask investors brokerage fee for investment in order to get paid back.I've spent a lot of money investing with Absolute, but I haven't seen any returns yet.
Huiyou Description
Absolute Markets allow affiliate(FX  MASERT GOLD) to sign people up and they make trades for GOLD and take a % at the end of week from profit. They allow them to wipe out the accounts after the accounts had a profit bulit up profit in the early hours so they would not have to pay out.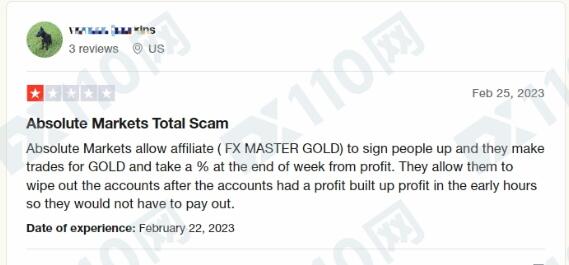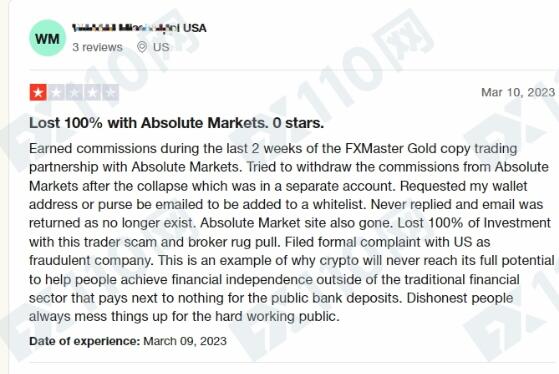 Check Absolute Markets
Absolute Markets, a trading name of Absolute Markets LLC, is an online forex broker registered in Saint Vincent and the Grenadines, claiming to offer its clients access to massive financial markets through the leading MT4 trading platform. Absolute Markets offers four tiered trading accounts, with the maximum trading leverage up to 1:1000, insanely high.
Absolute Markets boasts that investors with its platform can trade on various popular and mainstream financial markets, including 200+ major and minor Forex pairs, Cryptos, Stocks CFDs on Shares, Metals, Indices, and Energies. Investors have the greater flexibility to follow market trends and diversify their investment portfolios.
As for regulation, After inquiry, the platform corresponding to the registration number 1477 LLC 2021 in the list of registered companies of St. Vincent FSA is indeed Absolute Markets LLC, but please note that St. Vincent FSA does not regulate financial derivatives. Obviously, this platform has no effective supervision!
Conclusion
If a platform delays withdrawing funds for a long time or needs to pay so-called "taxes" and "guarantee deposits", it means that there must be something wrong with the platform. Remind again, before trading and investing, you must review the compliance of the platform in multiple ways. If you accidentally fall into a black platform, you must stop the loss in time!