About TradeRyt
TradeRyt (https://traderyt.com/) is an investment company based in the United States. The company claims to have a team of financial experts who aid individual investors in making profitable trades and investments over the Internet. With 600K+ investors onboarded across the globe and completing 1200+ projects over seven years, the firm boasts affordable investment plans for forex and crypto enthusiasts. The minimum investment required to sign up with the company starts at $1K. Notably, the fund's management company doesn't talk about its regulation status and how it protects clients' money from intruders and markets' volatility.
Is TradeRyt Regulated?
No! TradeRyt isn't regulated. The company neither lists any compliance certificate nor talks about its regulations status within the country. Brokers, exchanges or investment firms operating inside the USA must hold a license from the National Futures Association (NFA) or Commodity Futures Trading Commission (CFTC). However, the firm claims to have been under FCA's supervision, which doesn't make any sense.
​ Are My Funds Safe With TradeRyt?
No! We don't think so. Since the company doesn't hold any regulations, the team behind the setup can eat your funds without ever being held responsible for their actions. The worst part is that there is no option for recourse.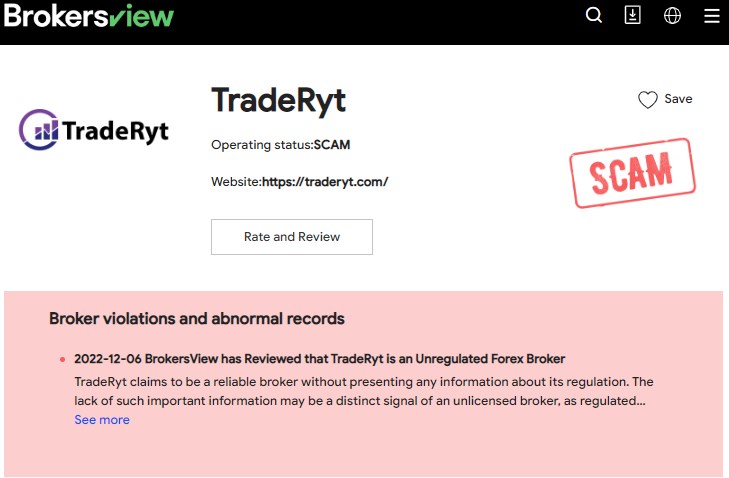 Why Do We Believe Trade Ryt Is A Scam?
The absence of regulation is the first sign that raised our concerns about the firm's legitimacy. Moreover, when we tried to contact the broker to ask about its regulation status, the company's response was weird.
Secondly, the company promises unrealistic returns, which is yet another red flag that makes the firm suspicious. For instance, it claims to offer a 1.57% daily return for around 14 days on a $5500 investment, making your capital grow by $1200. If that's true, why doesn't the firm share the verified performance of its successful customers?
Lastly, the U.S. Securities and Exchange Commission (SEC) has blacklisted the firm for operating within the country without authorization.
How TradeRyt Scam Investors?
TradeRyt first asks clients to select from the different investment plans and deposit the required amount. After receiving clients' funds, it starts daunting customers to add more funds to avoid becoming liquidated. Clients have reported the company doesn't release their funds in any case.
Bottom Line
Brokers and investment firms that operate outside of the regulatory framework are exempt from reporting requirements to any governing institutions. If you fall for any of their scams, you will lose your money forever. Therefore, you must exercise extreme caution when signup with a brokerage firm and should always ensure to verify its regulations status with concerned authorities.