About Pandora
The platform claims to provide foreign exchange, index, precious metal, cryptocurrency and other trading services. It is operated by Pandora Finance Co., Limited. By downloading the platform software, it is confirmed that its company is located in Hong Kong, and the registration website of the software is http://www.pandora -finance.co/, a precious metals trading platform operated by the same company.
Regulation: Is Pandora legit?
We have found the corresponding company name on the Hong Kong business page, but registration does not mean that it is under supervision. There is no information in Hong Kong SFC, please do not deposit and trade on this platform.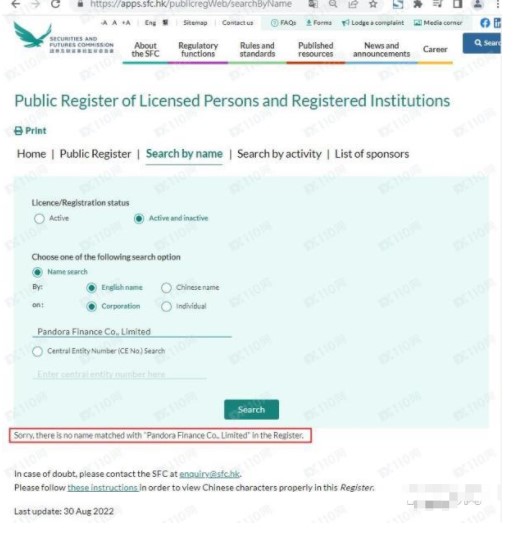 In addition, after checking the relevant information, it was found that the Pandora platform also has a website www.pandoraforex.com, and the related fraudulent platform also has PDFX。
conclusion
According to our research, Pandora broker is NOT regulated and we would not recommend dealing with this firm. The broker does not provide any information about being regulated by the Hong Kong financial regulator the Securities and Futures Commission (SFC). The fact that it is In the companies register of Hong Kong does not mean the company has rights to provide financial services to the locals. It is just too much too risk with this kind of broker.
In any case, we never advise trading with a non-licensed broker, since the financial investment service they deliver is not trustable. The reason is simple, the broker may promise the most ever competitive trading conditions or the trading environment, yet the trader has no any guarantee from the official entities that oversee the Forex industry. Thus the engagement to trading with such a companies means the trader will believe only on the broker's words, and of course, it is a high risk.