Cedar Signals Check
According to a banner on the website, Cedar Signals has been helping clients for over a decade.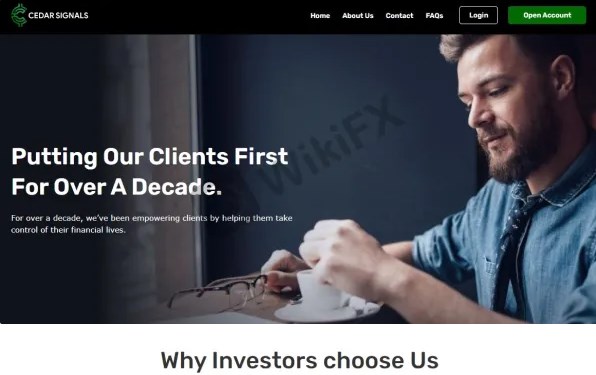 Besides, the fraud claims it has 7-year-experience "since 2013". And it also writes "30 YEARS EXPERIENCE" on the page.
After seeing all the paradoxical statements about its experience, we can not help asking: " How many years on earth? " Then we checked its domain and found the website had been created on 5 Nov 2021, less than a year ago. So how could the firm be an experienced forex broker? Here is a red flag.
And the baseless statement sometimes may even confuse themselves, The experience and regulations it claims are paradoxical, which makes the scam a joke.
Multiple Regulations?
Cedar Signals claims to be regulated by the Australian Securities & Investments Commission(ASIC). However, we could not find any company named Cedar Signals. So the broker is not overseen by ASIC.
Cedar Signals also claims to be governed by Danish Law. So we searched the Finanstilsynet (Danish FSA) and still find no results that matched this broker.
According to its website, Cedar Signals is located in the UK. As per United Kingdom's laws, it shall be regulated by the United Kingdom Financial Conduct Authority (UK FCA). However, we found nothing about Cedar Signals.
Moreover, the British Columbia Securities Commission (BCSC) issued a warning that Cedar Signals is not registered to trade in, or advise on, securities or derivatives in BC.
The truth is that Cedar Signals is not regulated by any regulators. Letting this broker hold or control investors' money is unsafe, and the money can not be protected by any laws. Therefore, it is a scam.
Scam Warning
The liar describes its experience and regulations in the hype. However, it turns out that none of the descriptions is true.