Crude oil is holding above tough support, keeping alive the capitulation view; natural gas has fallen sharply, but the downside could be cushioned and what are the key levels to watch?
Crude oil: Boxed in a range
Crude oil recouped some of last week's losses as investors cheered a weekend deal in Washington to raise the government's debt ceiling, potentially averting a disruptive government default.
Oil has managed to hold recover despite Russia's Deputy Prime Minister Alexander Novak's comments late last week that OPEC+ wasn't likely to take further measures to change production levels at its meeting on June 4.
This followed Saudi Energy Minister Price Abdulaziz bin Salman warning that speculators should 'watch out' for pain – a sign that the group was preparing to cut output.
Crude oil monthly chart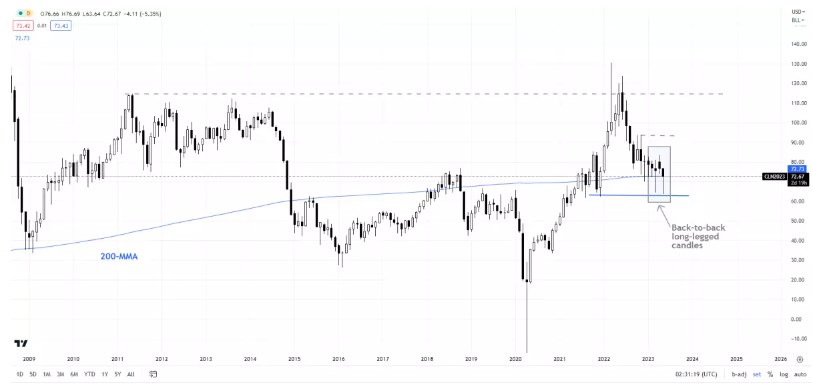 Still, the upside in oil could be capped as the US Federal Reserve is expected to hike interest rates further at its June meeting and demand concerns given the uneven post-Covid recovery in China.
The market is pricing in a 60% chance of a 25-basis-point Fed rate hike on June 14 Vs a 17% chance a week ago and see no rate cuts until the end of the year.
Crude oil daily chart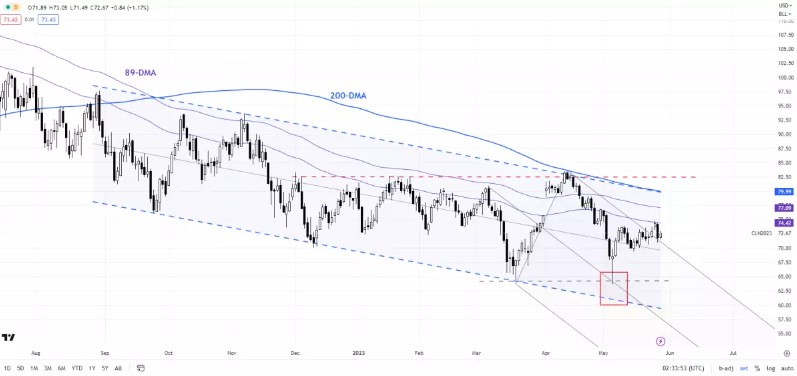 On technical charts, crude oil's hold above 64.00 could be a sign that oil may have capitulated following a multi-month decline.
However, there are no signs of a reversal of the downtrend yet. In this regard, oil would need to break above the April high of 83.50 for the downward pressure to fade. Until then, the path of least resistance is sideways to down.
Natural gas: Down but not out
Natural gas prices dropped sharply on Friday, before recovering slightly on Monday morning in Asia, weighed by milder US weather and a rebound in Canadian natural gas exports to the US.
Natural gas daily chart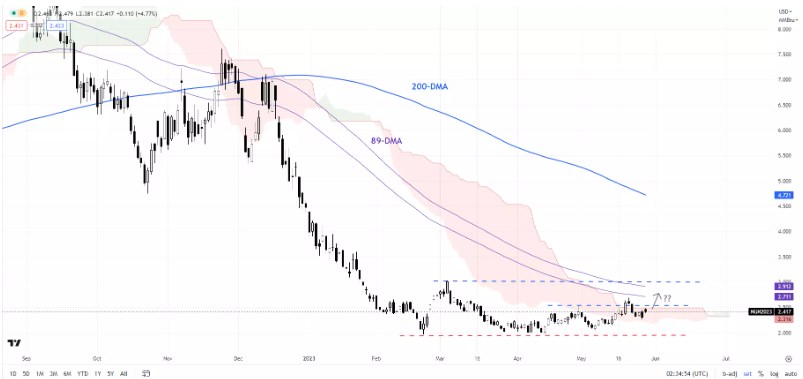 Reports suggest the weather in the Lower 48 states would switch from cooler than normal From May 26-29 to mostly near normal from May 30 – June 10. Furthermore, earlier this month, wildfires forced Canadian producers to cut natural gas exports to the US.
However, last week, exports appear to be recovering to levels seen before the wildfires.
Still, the downside in natural gas prices could be limited by declining drilling activity on oversupply conditions and tighter credit conditions.
On technical charts, so long as natural gas stays above the February low of 1.97, some more upside can be expected, potentially toward the March high of 3.03.
Natural gas monthly chart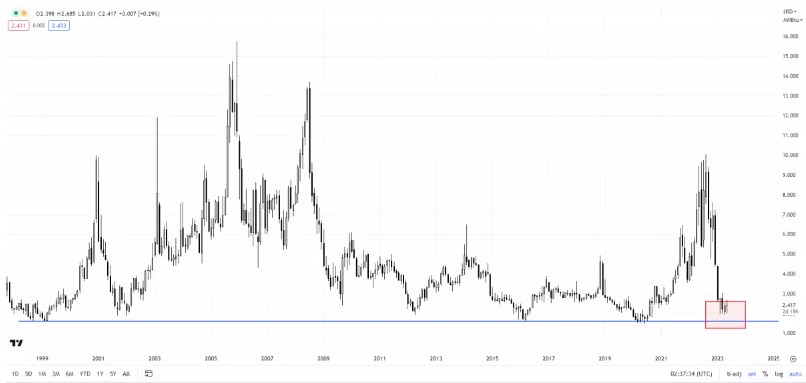 Source: TradingView