Retail FX deposits at brokerages in the US, one of the most developed investment markets worldwide, notched a decline in December 2022, the Commodity Futures Trading Commission (CFTC) data showed.
The CFTC has published its monthly report, which covers data for FCMs that are registered as Retail Foreign Exchange Dealers (RFEDs) and those included as broker-dealers that hold retail Forex obligations in the United States, namely Gain Capital Group LLC, IG US LLC, Interactive Brokers LLC, OANDA Corporation, CHARLES SCHWAB Futures & Forex LLC and the newest comer Trading.com Markets.
According to the CFTC dataset, the FX funds held at the six registered brokerages hit over $482.2 million in December 2022. Excluding Trading.com Markets, the retail FX deposits of the five established brokers reached $481.5 million, a month-on-month decrease of 0.82 percent compared with the $485.5million reported in November 2022.
The chart listed below summarizes all the data published in 2022. For purposes of comparison, the month-on-month change of the recent months has been outlined to illustrate the disparities.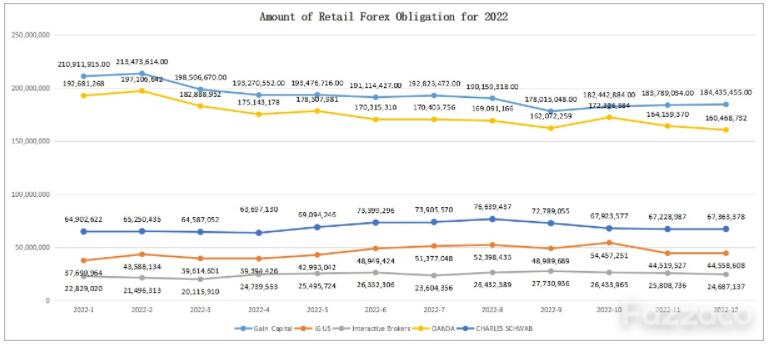 Interactive Brokers' Retail FX Deposits Fall for Third Consecutive Month
Two of the six FX firms listed notched decreases in Retail Forex Obligations ,this time was interactive Brokers and OANDA. And interactive Brokets' retail FX deposits have fallen for the third consecutive month.​
Interactive Brokers' retail FX deposits experienced a 4.35 percent decline to $24.7 million. OANDA also saw a decrease of $3.7 million to $160.5 million, compared to $164.2 million in the month prior, reflecting a 2.25percent decline.
In December, Gain Capital saw an increase of $646,421 to $184.4 million, compared to $183.8 million at the end of November 2022, or 0.35 percent higher month-over-month. IG US also reported a rise of $39,081 to $44.6 million, which is 0.09 percent higher over a monthly basis.
CHARLES SCHWAB also saw an increase of 0.2 percent to $67.4 million, compared to $67.2 million in the month prior. In addition, Trading.com Markets also reported a rise of $110,040 to 701,031, which is 18.7 percent higher over a monthly basis.
OANDA Lost in Market Share
Looking at the market share of these brokers, distribution changed slightly in December relative to the month prior.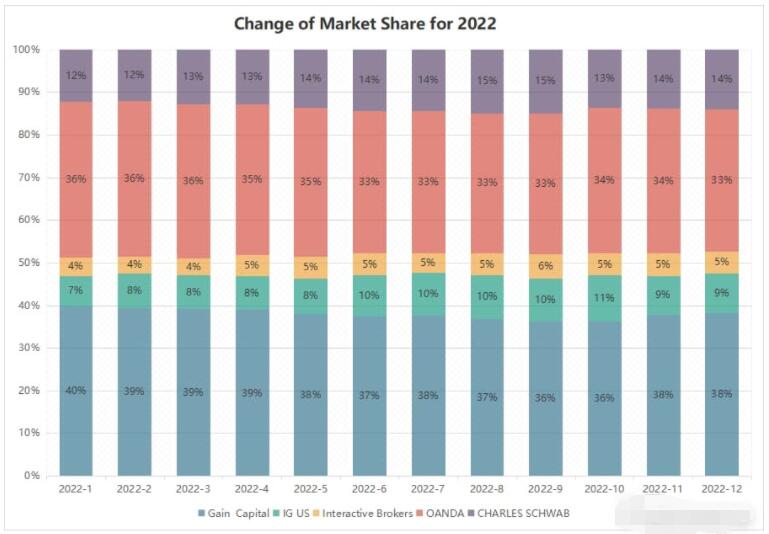 Among these six brokers, only OANDA lost market share. OANDA acquired 33 percent share in this month, 1 percent lower compared to the last month.
The remaining brokers' market share both kept unchanged. Gain Capital remained the leader in terms of market share with a current share of 38 percent. Trading.com Markets retained the last one of less than 1 percent. IG US, Interactive Brokers and CHARLES SCHWAB acquired 9 percent, 5 percent and 14 percent share respectively in this month, unchanged from the last month.