Breaking news! Sterling Investments Limited has attracted the attention of the Financial Conduct Authority(FCA)in the UK, which warns on November 10th that Sterling Investments Limited is not authorized to offer financial services in the England.
There is no doubt that the Sterling Investments Limited is an officially confirmed scam – the UK regulator FCA blacklisted the so-called broker, which outright proves its fraudulent! Trustworthy financial authorities regularly update their lists with unauthorized entities, and it goes without saying that any broker with a warning on its name should be avoided.
So far, its official website is still accessible, proving that Sterling Investments Limited is still deceiving investors, their tricks didn't stop with the FCA's warning. According to its website, it's clear that the company is attempting to flout the FCA's warning to prove it was a legitimate company.
Sterling Investments Limited misrepresented that it was regulated by the FCA and that the authorization number was 06128807.Let's find out if what he says is true.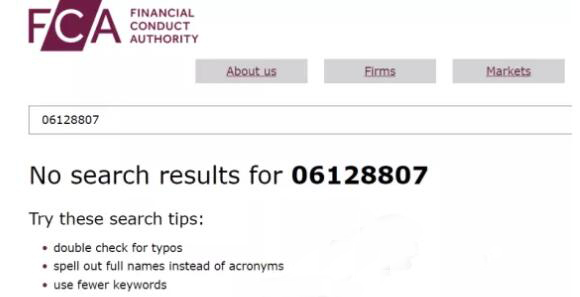 As we can see from the screenshot above that there is no company named "Sterling Investments Limited" Or 06128807 number was registered in Financial Conduct Authority. Instead, the company received a warning from the FCA. Any claim made by such a shady trader is baseless and implausible, and we should all be wary.
Sterling Investments Limited offers different types of trading accounts, among which the most popular type –silver plan requires a minimum deposit of $ 5000 to start the account, with an effective ROI of 21%. This is Ridiculous! Only a scammer can guarantee a high rate of return, because it uses an unrealistic ROI to lure clients to invest their money. As you can imagine, all of your hard money will end up in their pockets.
Sterling Investments Limited did not specify the terms of the transactions. On its website, you can't see the standards platforms like MT4/5, leverage, spread and other trading conditions, nor do you know the deposit method and withdrawal conditions. Anyway, all the specific terms of the deal you want to know are not mentioned here. Apparently, there's only one reason he's doing this – Sterling Investments Limited 's trying to trick green hand to invest first, but it's hard to get your money out once you put it in.
Please bear in mind that this is totally a scam uncovered by the authorities. All information on its official website is baseless and untrustworthy. No matter how well the terms and conditions on its website and the trading platform are presented, remember that these are decoys that are trying to lure you in — once you've deposited your money, the elaborate traps are just beginning.