about  Grand Capital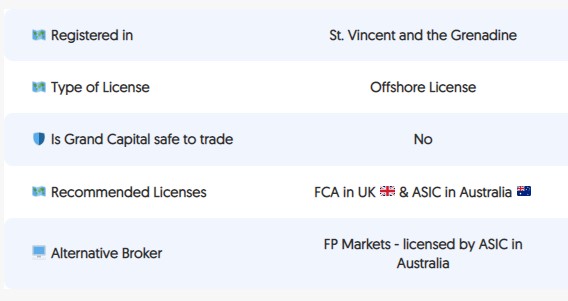 Grand Capital Ltd is an incorporated company that has operated for 11 years. Originally a Russian company, it performs the operation through its registered offices in St. Vincent and the Grenadines and Seychelles, along with 40 offices around the world as claimed by the company.
The company has achieved some significant results in its trading offerings alike enabling high-quality connection to the markets through ECN bridges, a Web-Based terminal, access to over 330 assets, as well as offering comfortable conditions for investment with copy trading and other additional sources to cover the needs of various traders. Moreover with the received awards and the titles 'Best Broker', 'Best trading technology and more from world publicity and organizations.
Nevertheless, there is no confirmation about the regulatory compliance and the necessary protection of the clients, which enables international investors to trade rest assured. Also, the range of trading instruments includes options that put trading capital at risk, including trading on CFDs, and binaries along with an extreme level of leverage that comes up to 1:2000, and is considered a highly adventurous trading.
Is Grand Capital  Regulated?
We advise our readers, not to use GrandCapital as it is an offshore entity. GrandCapital is owned by GrandCapital Ltd., which is an offshore company registered in St. Vincent and the Grenadines.
St. Vincent and the Grenadines is notorious for its practically absent requirements and regulations. The setup cost is low and it does not regulate forex trading. Therefore, it became an offshore zone for shady forex brokers such as Brokerz, TraderUR, and more.
Is Grand Capital  Legit?
According to the GrandCapital website, the broker is registered with the Financial Commission under the number 24598 IBC. Even though FinaCom is a well-respected organization, it is a self-regulatory organization that cannot guarantee the safety of the trading environment and does not regulate the daily operations of the company, therefore can't provide necessary protection to the client.
We advise all investors and traders to avoid Grand Capital and other brokers from St. Vincent and the Grenadines. Traders should trade with well-regulated brokers such as UK brokers or brokers in Australia and reliable brokers.