About Globex360
Founded in 2017, Globex360 is an online trading services provider based in South Africa. Globex360 is an authorized financial services provider registered and regulated under the Financial Sector Conduct Authority (FSCA) in South Africa. However, the FSCA license is currently exceeded.
Is Globex360 regulated?
No. It has been verified that the FSCA license is exceeded.
Risk Warning
Online trading involves significant risk, and you may lose all of your invested capital. It is not suitable for all traders or investors. Please ensure that you understand the risks involved and note that the information contained in this article is for general information purposes only.
General Information & Regulation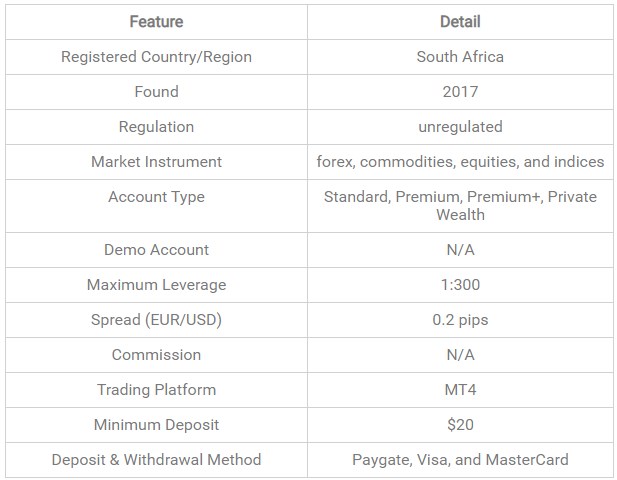 Account Types
There are 4 types of accounts on the Globex360 platform: Standard (minimum opening amount of $20), Premium (minimum opening amount of $100), Premium+ (minimum opening amount of $1,000), and Private Wealth (minimum opening amount of $5,000). Overall, the initial deposit required by this broker sounds affordable for most regular traders. The broker also offers Islamic accounts.
Leverage
The maximum trading leverage offered by Globex360 is up to 1:300. The trading leverage offered by this broker is considered high, and inexperienced traders are not advised to use a high leverage level.
Spreads
All spreads with Globex360 are a floating type and scaled with the accounts offered. Specifically, the spread starts from 1.4 pips on the Standard, Premium, and Premium+ accounts, while only the Private Wealth account can enjoy raw spreads.
The spreads on the Globex360 platform are 0.2 pips for EURUSD, 0.1 pips for GBPUSD, 0.09 pips for XAUUSD, 2 pips for US30, 0.03 pips for Brent Oil, and 0.34 pips for Corn.
Trading Platform
Globex360 offers traders MT4, MT4 desktop terminal, MT4 mobile terminal for MT4 Windows, and MT4 OS terminal. MT4 is one of the world's most popular trading platforms with automatic monitoring, advanced charting, and real-time analysis. As one of the first-ever MT4 providers, Globex360's years of experience can help traders with their trading.
Trading Tools
Whilst the MT4 platform will have more than enough compatible tools for the average retail trader, the broker does provide a few additional tools. These trading tools include trading calculators, economic calendars, and more.
Deposit & Withdrawal
From the logos shown at the foot of the home page on Globex360s official website, we found that this broker seems to accept deposits and withdrawals via Paygate, Visa, and MasterCard.
The minimum initial deposit requirement is said to be only $20. Deposits are said to be instant while withdrawals can be processed within 24 hours.