about  Investizo
Investizo is an offshore forex and CFD broker that offers trading in wide range of assets on the popular MetaTrader4 platform. The broker also says to provide profitable trading conditions.
This might sound as legit offer and yet we would better suggest that you read the following lines before depositing any money with Investizo. There are a few key issues about this broker that make us question their credibility.
Is Investizo legit?
Investizo is an offshore broker, and doesn't hold a license to provide financial services, so, no, they aren't legit.
Domain Name Survey Results
The platform website domain name was established on February 11, 2019.
The domain name query screenshot is as follows: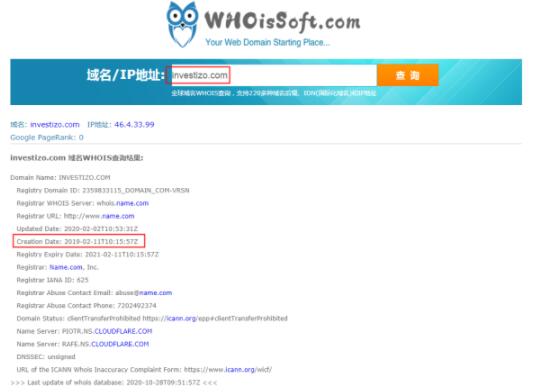 claim to be regulated
The platform claims to be able to do financial derivatives, and claims to be an international business company registered in St. Vincent, number: 25432 BC 2019. But please note that St. Vincent FSA will not publish registered IBC company information on its website, and St. Vincent FSA does not regulate financial derivatives!
More specifically, Investizo says to be a trading name of Investizo LTD – a company allegedly registered in Saint Vincent and the Grenadines (SVG). This offshore zone is quite notorious because many scam brokers choose to register on this southern Caribbean island – because registering a forex business is easy, low cost, and there are no specific regulations in force, nor any oversight on the part of the government. In other words, brokers operating out of SVG are completely unaccountable for the way they handle clients' money, how they execute orders, handle deposits and withdrawals, etc. So, it's no surprise that most of them are engaged in fraudulent practices.
And traders needn't have to worry themselves with any such problems if they deal with a broker regulated by a prestigious financial regulator such as the Australian Securities and Investments Commission (ASIC). ASIC has a neat set rules in place for financial services providers and sees to their compliance, thus effectively preventing their clients from falling victims to fraud. More specifically, ASIC requires licensed brokers to meet capital requirements of AUD 1 million, to keep clients' money in segregated accounts and to follow certain internal procedures including risk management, staff training, accounting, audits, and more.
And there is one more thing worth noting. Scam brokers can be very persuasive and most of their victims lose a lot more than just the initial deposit. So, beware!