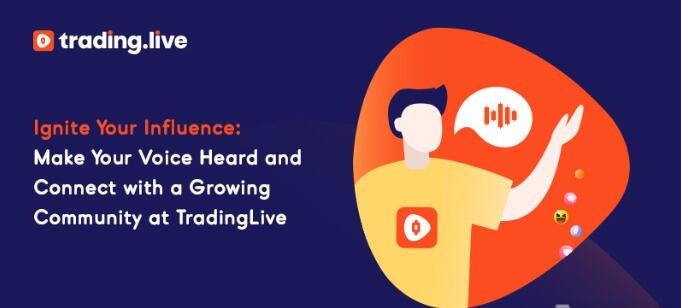 At TradingLive, a leading financial live streaming platform, we believe that everyone has a voice worth hearing, especially when it comes to finance and investing.
Whether you're a seasoned trader or just starting out, your unique experiences and perspectives are valuable and can help others on their own financial journeys. That's why we're always looking for passionate and knowledgeable lecturers who specialize in Forex, futures, commodities, indicies, cryptocurrencies, stocks, and other financial instruments to join our growing community.
TradingLive is designed to help you reach a wider audience, connect with others, and grow your influence. We believe that every lecturer brings something unique to our community, and we're committed to providing you with the best tools and resources you need to succeed.
Verified Badge
A verified TradingLive account is one that has undergone a rigorous authentication process and provids constant high-quality content to our audience. This is denoted by an orange checkmark badge that appears next to the account name.
A verified account is especially beneficial for individuals that have a significant following and want to establish their credibility on the platform. Verified accounts on TradingLive are given more visibility on banners, top streamer lists, and featured live sessions.
Verifying your account can also help protect you from impersonation or identity theft.
Expand Your Viewership
If you're looking to build a strong presence, one of the key goals is to expand your viewership and attract a wider audience. Having a large and engaged following is essential for achieving your goals and growing your channel.
TradingLive has a large database across the globe, especially in Southeast Asia and Middle East, with many being professional traders. What's more, after your live stream is concluded,
the replay will be made to the public forever on the website, ensuring long-lasting expusure of your channel and brand.
TradingLive has also set up a check-in at T31-PA-E, Larnaca airport, Cyprus, the largest financial hub. That is to say, your live will be broadcast to a global audience, particularly those professionals who travel from or to Cyprus. You will get chance to boost your reputation and share your views on the market with investors in Europe.
Direct More Traffic to Your Channels
We fully understand the importance of driving traffic to your channel. That's why we are committed to promoting your live content across all of our social media channels, including Facebook, Twitter, Instagram, Reddit, Quora, Tik Tok, and social groups like WhatsApp and Telegram.
Our team of social media experts work tirelessly to ensure that your live content is seen by a larger audience, ultimately helping you to achieve your goals and grow your channel. With our proven track record of successful social media marketing, we are confident that we can help you to achieve the results you desire.
Offline Events
TradingLive also organizes offline events to educate traders and honor the best in the trading industry. The most recent seminar, which was held on April 1st at The iSpace, Kuala Lumpur,
Malaysia, was a complete success. Two of our lecturers educated traders on different trading strategies, risk management techniques, and market trends.
At the same time, TradingLive Trading Influencers Awards Ceremony is going to take place on May 14, 2023, to celebrate the brightest stars in the trading world.
TradingLive lecturers will enjoy exclusive extra benefits when attending offline events and nominating for awards.
So if you're ready to ignite your influence and make your voice heard in a passionate community of traders, join us at TradingLive now. We can't wait to hear from you!
If any interests or inquiries, please send email at cooperation@trading.live.