Recently, the UK FCA license of USG Union Standard International Group Limited was cancelled, which means that USG Union Standard International Group Limited currently does not have any financial license.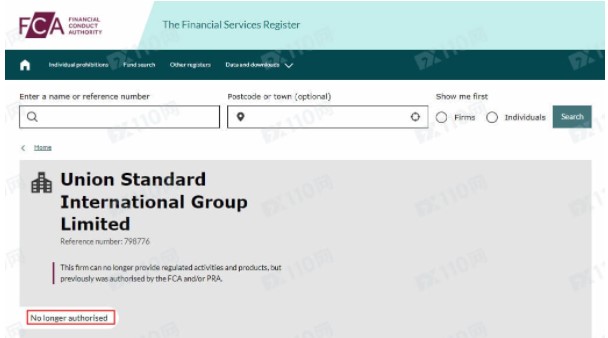 The FCA's page about USGFX UK further states: "Some activities by this firm may not be protected.
This firm is shown on the Register because it is now, or was previously, approved by the FCA (or relevant regulatory body). As a result, you may be able to complain about this firm to the Financial Ombudsman Service. If this firm goes out of business owing you money you may be able to claim compensation from the Financial Services Compensation Scheme (FSCS). However, this is not always the case and these organisations may not cover some of this firm's activities. If you would like to check what is and what isn't covered, you can ask this firm to confirm this to you in writing. There's more information on the Financial Ombudsman Service's websiteopens in a new window and the FSCS's websiteopens in a new window about the kind of complaints and claims they can help with. The final decision on whether or not they will consider any complaint or claim is for the Financial Ombudsman Service or the FSCS."
Damian McDowell resigned in November
Damian McDowell, who was CEO of the FCA-regulated operation of USGFX resigned after 15 months on the job.
Soe Hein Min, the USG Group controlling shareholder, became be the sole director of the UK company after McDowell's departure who had been with the company since August 2021.
The outgoing CEO joined the firm from TIO Markets UK Ltd, taking over from Simon Quirke, who ended a three-year stint. Interestingly, Quirke has joined TIO Markets as CEO in February 2022.
USGFX UK was distancing itself from USGFX Australia
The company had been under a rebranding process to distance itself from USGFX Australia, which is already in bankruptcy.
In January, the special administrators of USGFX's ASIC-regulated brand also disclosed that the company was in terrible financial difficulty and that it had a heavy shortfall in client money of more than $348 million.
Despite its regulatory woes in Australia and elsewhere, USGFX disclosed earlier this year solid financial metrics for its UK operations. Over the previous fiscal year, the broker saw its operating revenues increase to £1.27 million in FY 2021, up from £63,064 a year ago. However, it's important to note that although the firm was incorporated in 2018, it did not launch its services until January 2020.