Recently, Huiyou broke the news that the Absolute Markets website has been completely closed and lost contact, and its email and other contact methods are no longer available!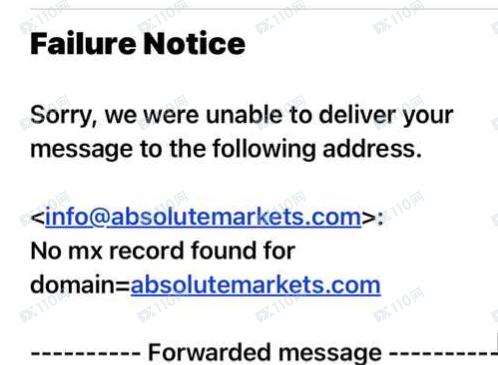 What is Absolute Markets?
Absolute Markets is a forex broker with the MetaTrader 4 (MT4) in PC, Web and Mobile version as well as its proprietary WebTrader as their trading platforms.
AbsoluteMarkets offers over 100 forex currency pairs, gold, silver, other metals, oil, indices, commodities, bitcoin and other cryptocurrencies for your personal investment and trading options.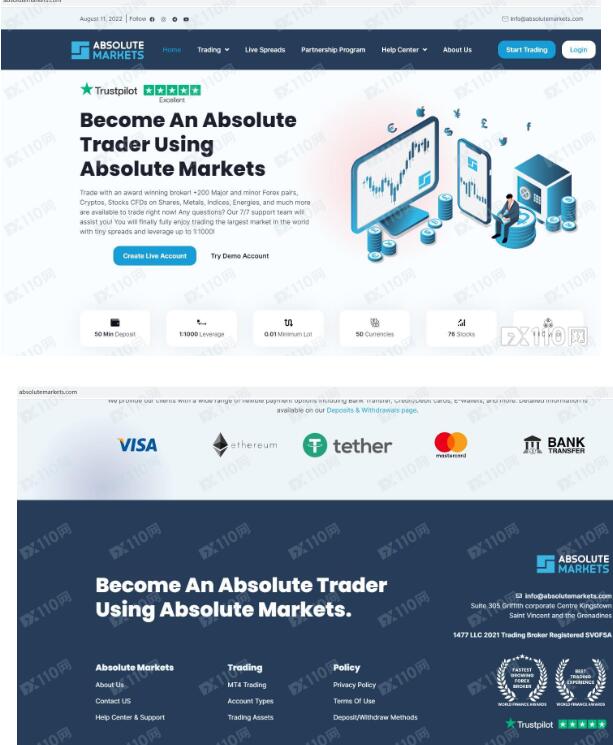 Upon checking the database of Brokersview, we found that The Absolute Markets platform claims to belong to Absolute Markets LLC, registered with St. Vincent SVGFSA, registration number 1477 LLC 2021.
After inquiry, the platform corresponding to the registration number 1477 LLC 2021 in the list of registered companies of St. Vincent FSA is indeed Absolute Markets LLC, but please note that St. Vincent FSA does not regulate financial derivatives. Obviously, this platform has no effective supervision!
How Unsafe Is An Unlicensed Broker?
The regulation is one of the first things you should check before signing in with any company, let alone when you're investing money. Regulated companies take many measures to protect their members. For example, the client's money must be segregated from the company's money. It is essential to mention negative balance protection, which means you cannot lose more money than you initially invested.
And this is all a reason why unlicensed brokers are not safe. There are no measures and no rules.
Traders' Experience With Absolute Markets
Absolute Markets reviews are mainly negative. Clients are describing their experience with the firm, including the fact that they cannot get a withdrawal. This is the main topic of the majority of comments. When you're investing funds, everything seems right. Until the moment you want the payout. This is where the struggle begins.recommended to stay away from。