About iFXoption
iFXOption is a forex brokerage allegedly based in Hungary.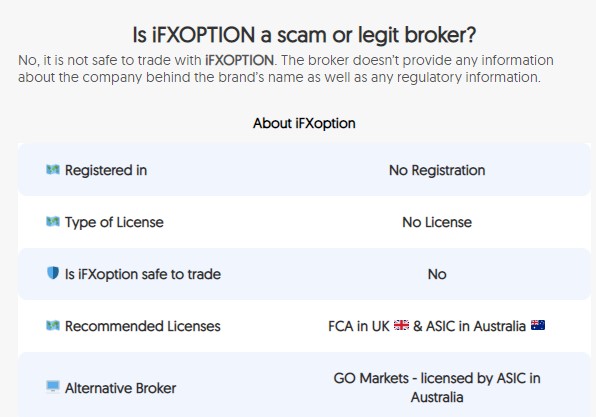 According to the website, iFXOPTION is a member of the Financial Services Compensation Scheme (FSCS). The company participates and is a member of the Investor Compensation Fund (ICF) that covers the clients of the investment companies, and which is governed by the laws of the Republic of Cyprus. The website also mentions that the broker is based in London, UK. Both FSCS and ICF protect customers when authorised financial services firms fail. However, we couldn't find any information about iFXOPTION authorization, which means the broker is not allowed to provide its financial services and cannot be a member of compensation schemes.
iFXOption offers trading in currency pairs and a wide variety of CFDs, including indices, stocks, commodities, bonds, ETFs and many cryptocurrencies. The cryptocurrency CFDs offered by this broker are Bitcoin, Ethereum, Litecoin, Ripple, Dash, Monero, Zcash, and many more.
Despite iFXOption's generous cryptocurrency offer, we would recommend those of you who are into Bitcoin to trade them with a regulated and reliable broker instead.
Moreover, iFXOPTION has been banned in Spain by local regulator CNMV:
"IFX OPTION is not authorised to provide the investment services, which include investment advice, or to provide auxiliary services in relation to the financial instruments, including, for those purposes, foreign currency transactions."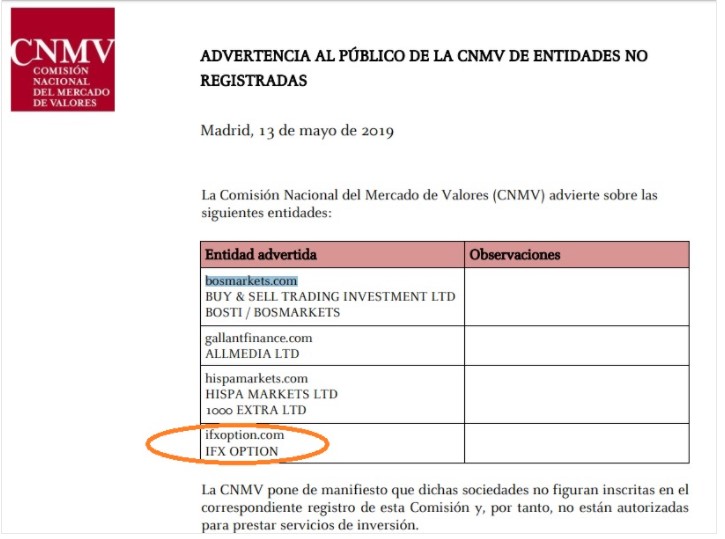 There is no information or any kind of reviews about iFXOPTION broker on the net, which probably means it is a brand new company, that has already gotten into the warning list.
Conclusion
Overall, our impression of iFXOption is quite negative. The broker is not licensed, provides misleading regulatory information, and uses a platform offered only by other shady unregulated brokers. On top of that, it was blacklisted by the Spanish financial authorities, which alone should warn traders to stay away.
All in all, it would be best if traders direct themselves to better trading options. For example, there are plenty of brokers duly licensed in Australia or Cyprus, who offer even better trading conditions.