About GH Market
GH Market claimed to be a well-experienced teamwork-oriented company with a solid knowledge base in all formats of financial markets and products. However, this broker did not mention what kinds of instruments it offers.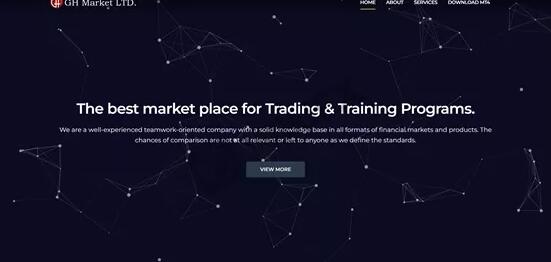 One-Page Website
GH Market's website can be opened but it is pretty shabby. The website lacks information as we don't know who the owner is and when this broker was found.
Regulation: Is GH Market legit?
GH Market is not legit. It is an unregulated broker. This means that GH Market does not hold a license under any regulatory institution. If something goes wrong, no one can hold them accountable.
Trading Platform
According to GH Markets website, it supports MT4 as a trading platform to offer clients service. In order to use the MT4, you have to download it from GH Market.
How the risk looks like
Like many other unregulated brokers, GH Market is likely to freeze your account and steal your money when you invest in it. They may try their best to persuade you to open an account, and eventually make you deposit more money by giving some rewards at the beginning. Once the scam becomes so obvious, they will take your money away without giving you any response.
Conclusion
We dont advise traders to invest in this broker as much necessary information about this broker remains mysterious.