Multi-asset trading and investment specialist Saxo Bank has released a new version of its OpenAPI, the backbone of trading platforms such as SaxoTraderGO.
The latest version of the OpenAPI enhances the Corporate Actions service group by adding a new section. It is called "PaymentBreakdown".
Let's note that the Corporate Actions service group provides resources to help end clients view and act on corporate actions and proxy votes related to their current holdings.
Corporate Actions are events initiated by companies who are issuers of securities. These events give opportunities to the owners of these securities to receive benefits or take part in certain activities. Holdings are units of shares or other instruments of owners, which are usually the starting point of all the corporate actions.
The latest version of Saxo's OpenAPI also improves the Portfolio and Trading groups. For instance, in the Trading group, a new field is added to MultiLeg order PATCH method: "OrderDuration".
In the AutoTrading group, the fields "MaxInvestmentAmt" and "MaxInvestmentAmtDescription" have been removed. This change could be breaking.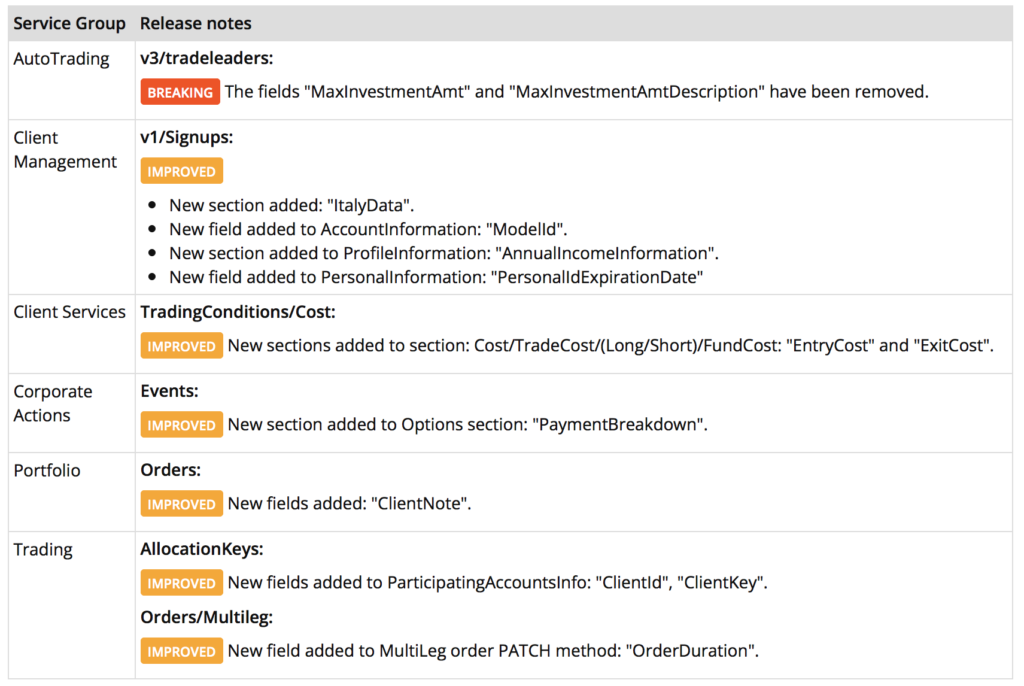 Saxo bank regularly updates its OpenAPI. It offers:
Access to all resources and functionality required to build a high-performance multi-asset trading platform.
Better integration with Saxo Bank for partners and affiliates through a growing set of resources, such as Saxo's Onboarding API.