Gland, Switzerland based online broker Swissquote (SWX:SQN) released a brief statement regarding its full year 2021 results early Thursday, entitled "Swissquote beats revenues and profit guidance with record results." A number of forex blogs and financial news sites ran articles with titles like "Swissquote sees another record year…", or "Swissquote pre-tax profit surges 111% in 2021…".
So, why did Swissquote shares trade down by 5% on Thursday? We'd also note that after hitting a high of CHF 212.50 recently, Swissquote shares are now down by 17% from that peak, and sit at CHF 176.80.
Well, the answer seems to be in what Swissquote didn't overtly say (or those blogs didn't really pick up on, or just willfully chose to ignore) – that activity at Swissquote was much more muted in the second half of 2021 than in the first half of the year.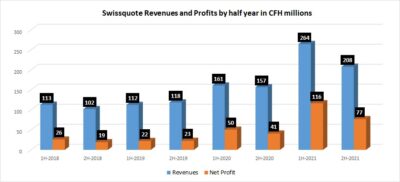 Swissquote's "record 2021" was already baked in during the first half of the year (see chart at right), which saw the company report more in profit (CHF 116 million) in just six months than it did in the entire 2020 (CHF 91 million) or in any other previous year. Revenues in 1H-2021 of CHF 264 million were nearly what they were in the previous 12 months.
So, the question on most investors' minds was really more about whether the record 1H-2021 at Swissquote was an aberration, or whether it was a sustainable step up in size and activity at the company.
The answer seems to be somewhat in the middle.
Swissquote's 2H-2021, although well below 1H-2021, would still qualify as the company's second-best semi-annual period ever, well above what the company was bringing in and earning before. But investors do seem somewhat skeptical – is this higher level sustainable, or will there be continued decline into 2022, following the 1H to 2H 2021 decline of 21% in revenues and 34% in profits?
Even with its recent 17% decline, Swissquote shares are still up significantly – more than 70% – over the past 12 months, possibly also making investors nervous about where they might go if the company's results continue to shrink.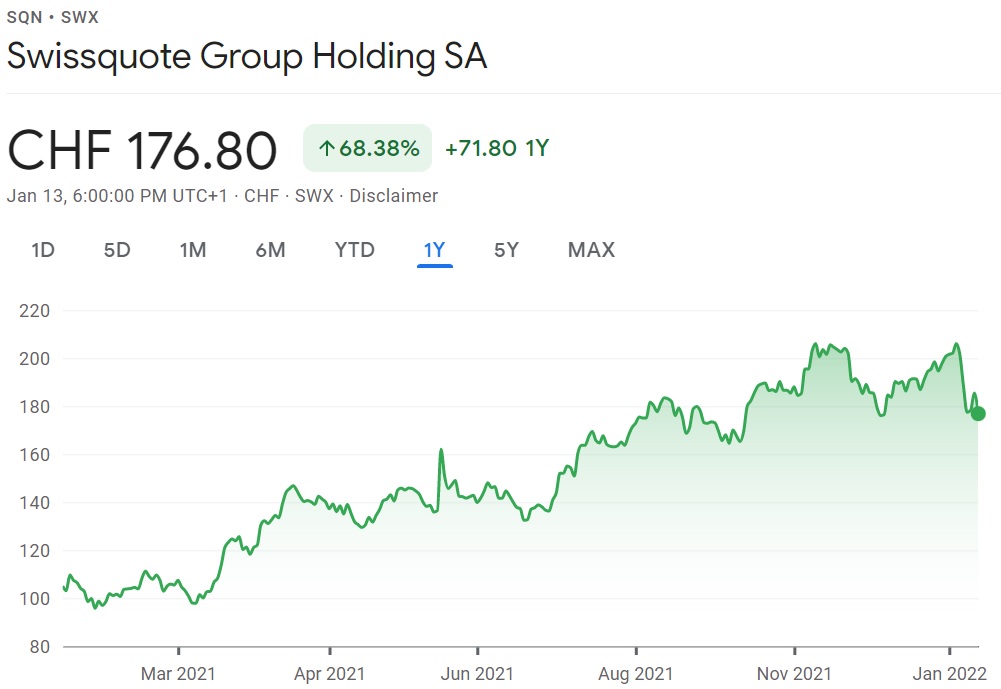 Swissquote shares, past 12 months. Source: Google Finance.